From Sensors to Solutions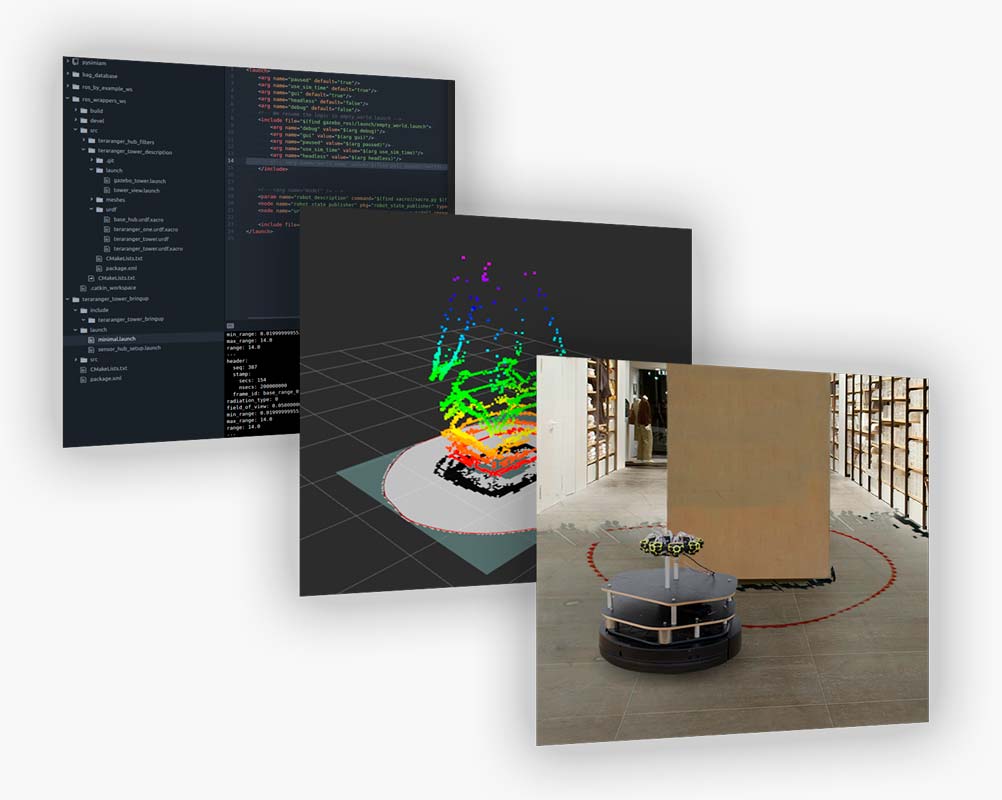 Simultaneous Localization and Mapping
Terabee brings new ideas to Simultaneous Localisation and Mapping (SLAM). Where traditional thinking is to gather millions of data points, we build robust and reliable solutions on the premise of fewer points being monitored, but in a more reliable way. High-speed distance sensing is core to this (but we may also harness odometry and inertial data) and results in simplified algorithms and processing and reduced failure modes. For example, with just 5 single point distance sensors we can map a 3D environment to create a fast and reliable 2D trajectory for a robot.
Robust anti-collision
In order to operate in the real world, robots must react to it. Whether in the air, on the ground, or in safety-critical industrial applications, TeraRanger sensors provide an unparalleled benchmark in anti-collision and reactive control. Coupled with our control system and software development expertise we create robust and reliable anti-collision solutions.
Absolute positioning
Absolute positioning can be addressed with onboard sensors or a hybrid of technologies. We develop and optimise high-speed Radio Frequency 'GPS style' systems with centimeter accuracy for GPS denied environments. This allows absolute positioning of robots, drones or humans in 3 dimensions. In fast-moving robotics applications, sensors can be used to add accuracy, safety and anti-collision capabilities and to enable fully autonomous operations.
Automation and Safety
The size, speed, modularity and lower cost of TeraRanger sensors have us well-placed in the industrial automation sector. In partnership with its clients, Terabee is transforming the way humans interact with robots and enhancing efficiency and safety in the workplace. Safety certification to SIL standards is a core theme.
Internet of Things
TeraRanger sensors are ideal for IoT and Smart City applications. Their small size and low cost allow for easy deployment in high volumes, while their high speed enables them to trace the profiles of even fast-moving vehicles. The sensors can be optimised to meet specific requirements, including Ingress Protection (for example IP65) and various power and communication standards and connections. Intelligence can be embedded on the sensors, or we can devise solutions with external processing. Traffic Monitoring and Vehicle Profiling is just one example of the IoT use cases we can support.
3D Imaging and Processing
Whether exploiting arrays of single point sensors, or compact 3D cameras, we help customers gather and process robust and reliable 3D intelligence for real-time action. From object and asset identification to Smart City, people counting, autonomous navigation and obstacle avoidance systems, our combination of sensors and intelligence help unlock the next dimension.